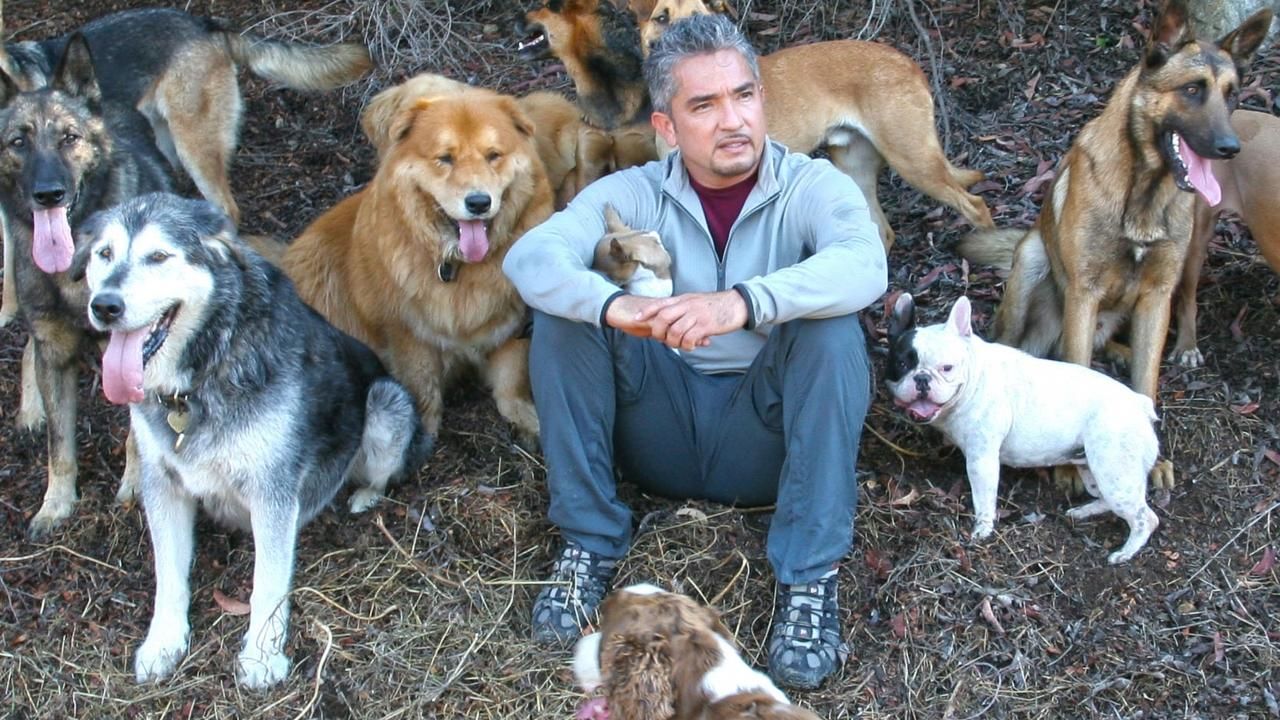 DESCRIPTION
'No dog is too much for me to handle', insists Cesar Millan but, after helping countless hounds, this is nonetheless the final series of the ever-popular 'The Dog Whisperer'.

There's no need for fans to worry - he'll be back soon with the exciting new show 'Leader Of The Pack' – but in the meantime, what better destination for his victory lap than Great Britain?

Cesar soon finds out that whatever their cultural differences, the British and Americans share common misunderstandings of their dogs.


Training the humans as much as he rehabilitates the dogs, he meets people with problem pooches, including one couple whose attempts to incorporate their Alaskan Klee Kai, Kimba, into their healthy lifestyle are hampered by her aggression towards other dogs. Is the reaction founded in fear and, if so, what can be done?
Then there's Ellie, a dog who has spent too long without rules, and now has to be physically dragged when it's time for a walk!


Cesar's not entirely deserting America, though – in the third episode, he finds time to visit the Jersey Shore and help out three families, including the owners of a troubled brood of an unusual-looking breed, the hairless Chinese crested.


Can Cesar solve these doggy dilemmas before he wraps up the series for good?

EPISODE GUIDE
The Dog Whisperer: Dogs Of Jersey Shore

Cesar brings discipline to four chaotic Chinese crested dogs, an over-energetic mastiff mix and two unruly miniature dachshunds.

The Dog Whisperer: Cesar Conquers London

There's anarchy in the UK as Cesar faces a challenge from a rowdy Jack Russell, two culture-shocked pooches and an unruly Patterdale terrier mix.

The Dog Whisperer: Battle Of Britain

As Cesar's UK holiday comes to a close he meets a snappy klee kai, a collie mix that's afraid of loud noises and an over-energetic Labrador.

The Dog Whisperer: Anger Management

Cesar helps the lead singer of Rooney with his aggressive pit bull, while writer and producer Paul needs help with his two Boston terriers.

The Dog Whisperer: Fear Factor

Cesar helps a deaf and blind whippet mix, a labradoodle who's afraid of the ocean and a cocker spaniel that's afraid of humans.

The Dog Whisperer: Playboy Playmates

Cesar helps three of Hugh Hefner's Playmates with their doggie problems, beginning with Miss November 2010's bullying Chihuahua mix.

The Dog Whisperer: Daytona Dogs

There's high-octane excitement as Cesar meets NASCAR driver Kevin Harvick's snappy Chihuahua, and an aggressive Pekingese called Gizmo.

The Dog Whisperer: Hollywood Hounds

Cesar helps fitness guru Jillian Michaels with her aggressive Chihuahua, while 'Frasier' star Kelsey Grammer needs help house-training his dogs.

The Dog Whisperer: Bad Dogs Of Comedy

It's no laughing matter when Cesar helps comedians Skyler Stone, Ralphie May and Paul Rodriguez get to grips with their unruly hounds.

The Dog Whisperer: Cesar's Worst Bite

Cesar meets an aggressive LA labrador, and tries to tame a homeless woman's over-protective pit bull so she can get off the streets.
ADVERTISEMENT
PHOTOS
Can Cesar Millan help these canine scaredy-cats?
VIDEOS
Cesar helps out some former gang members and their out of control dogs.

(02:59)