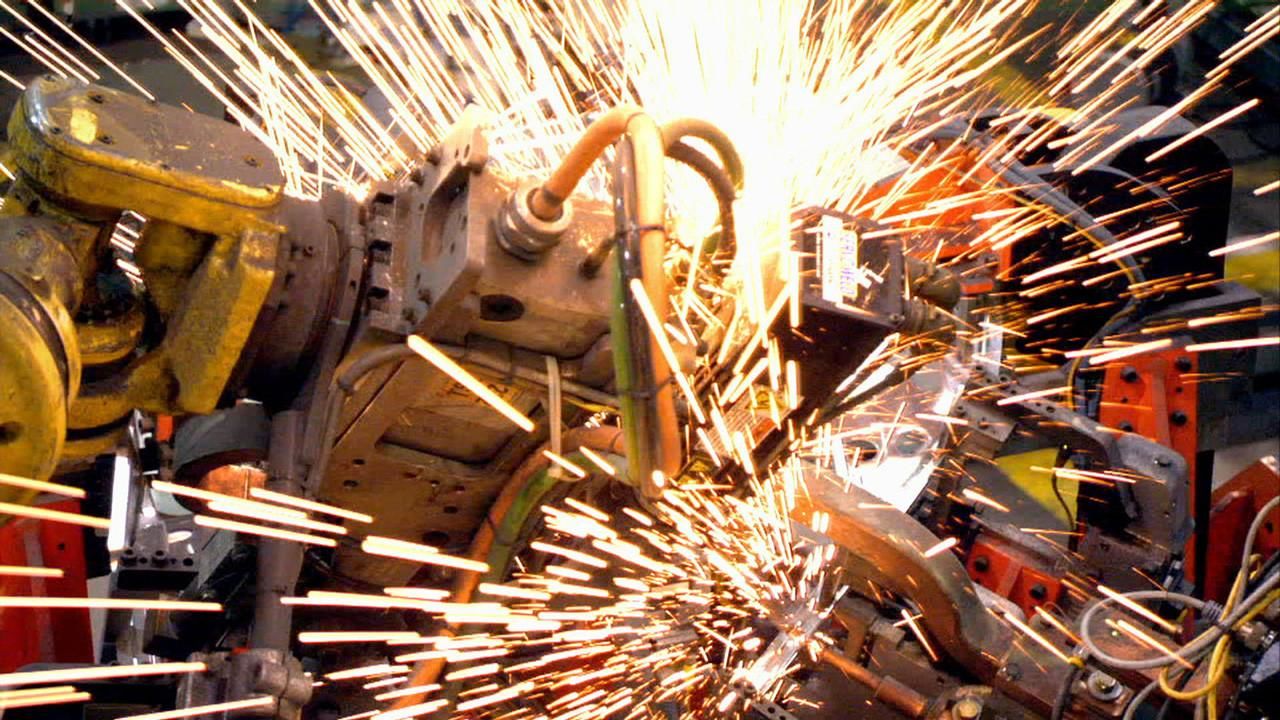 DESCRIPTION
Megafactories lifts the lid on how millions of your everyday products and iconic designs begin life on the assembly line.
From bottles of beer to to the latest video games to souped-up supercars, follow every cog and conveyor belt of these fascinating production processes as you enter some of the planet's most impressive factories.
EPISODE GUIDE
Megafactories: Armoured Car

They are a must if you are a world leader, but now even mums are starting to use them. Discover how cars are modified for maximum protection.

Megafactories: BMW

Take a behind-the-scenes tour and gain insight into BMW's high-tech and innovative manufacturing plants as they create the sleek and stylish Z4 Roadster.

Megafactories: Fire Truck

The fire truck is taken to the next level of engineering, making it a feat of technological genius. This is the ultimate firefighting vehicle.

Megafactories: Corvette

Go behind the scenes at Corvette, where they create the ZO6 supercar. It has a unique, hand-built, powerful engine that can propel it to speeds of 200mph.

Megafactories: The Lotus Evora

Join charismatic CEO Dany Bahar in Norfolk, unlikely home of the Lotus megafactory, as he unveils plans for their latest super car: the Evora.

Megafactories: Williams F-1

With unprecedented access to Williams F1's futuristic development factory, we reveal the ins and outs of the phenomenal FW33 F1 Car.

Megafactories: John Deere

The John Deere factory houses more than 2,000 employees, 49 robotic welders and eight laser cutters, all of which help make the John Deere STS Combine – a harvesting mega-machine.

Megafactories: BMW X3

It's the SUV with the spirit of a sports car! Explore why BMW moved production of the iconic X3 from Europe to South Carolina.

Megafactories: Harley-Davidson

The Harley-Davidson V-Rod can go from 0 to 96km/hour in 3.52 seconds. Visit the Harley-Davidson factory in Kansas City to see the makings of one of the company's most revolutionary bikes to date.

Megafactories: Ferrari

Inside a top-secret factory in Italy, witness the creation of the newest and most powerful Ferrari yet. Learn the design secrets of this incredible sports car at every point along the production line.

Megafactories: Winnebago

A 400 square-foot movable mansion that can travel at 75mph. Hit the open road in a Winnebago, America's finest home from home.

Megafactories: Porsche Panamera

Explore the state-of-the-art $200million factory where the controversial four-door Panamera that divided sports car fans worldwide is made.

Megafactories: High Speed Delivery

Step inside the largest and most efficient automated delivery system on the planet. More than a courier, UPS is an epic transport network.

Megafactories: Frito Lay Crisps

A visit to the huge Frito Lay facility, where they get through a million pounds of potatoes a day to make crisps in preparation for 4th July.

Megafactories: Caterpillar

With more horsepower than 30 Ferraris, CAT make the biggest mining trucks in the world, with 12ft wheels and engines bigger than a car.

Megafactories: World's Cheapest Car

Join Sir Ratan Tata on his mission to make India's roads safer by getting people off motorbikes and into the world's cheapest car: the Tata Nano.

Megafactories: Corona

Explore the mega-brewery in Mexico and discover how the factory operates 24 hours a day to meet the phenomenal demand for its beer.

Megafactories: High Speed Train

We'll investigate Alstom's cutting edge speed technologies used to build their first very high speed commercial train, the TGV.
PHOTOS
This four-door supercar has left some sports car enthusiasts scratching their head.
VIDEOS
Ten tonnes of chrome and steel with a 200 tonne hauling capacity – see how these heavy duty...

(00:40)