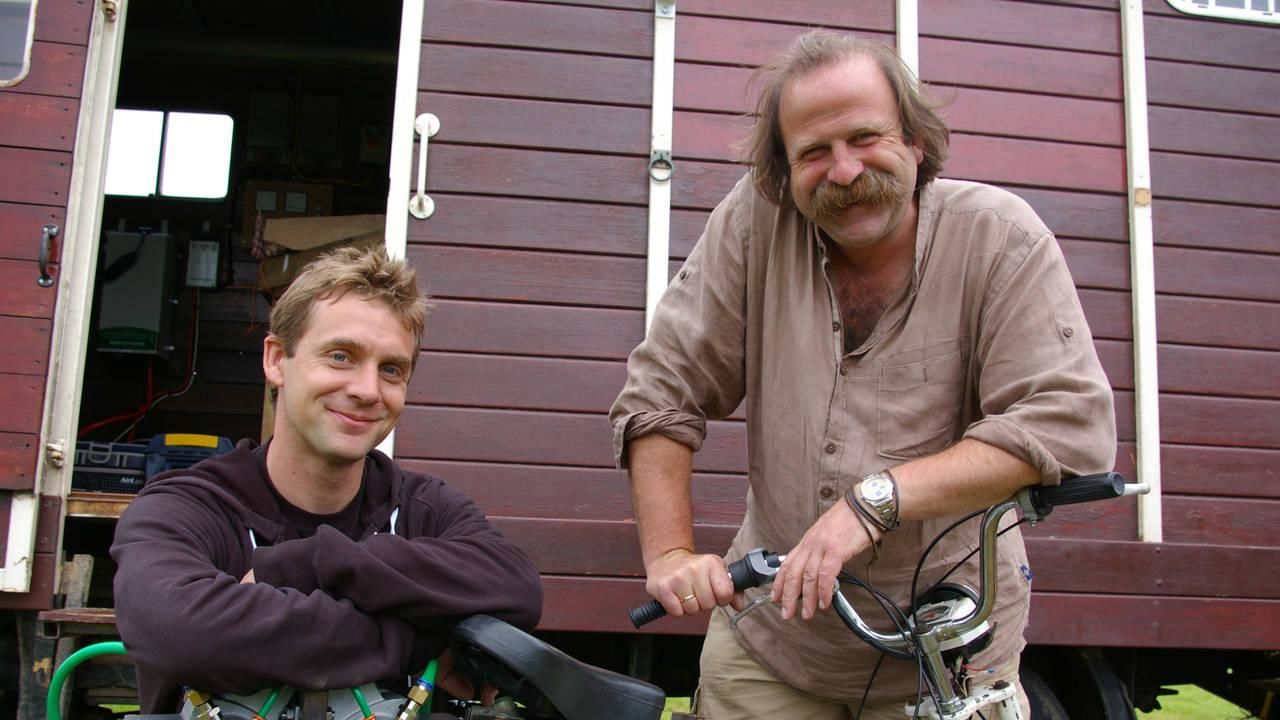 DICK STRAWBRIDGE
Richard Francis Strawbridge was interested from a very early age in "taking things apart". As long as he could still get whatever unfortunate machine he was "fixing" to work, and wherever brute-force would suffice, he remained undaunted. Dick believed and still believes today, that understanding how and why things work, is as important in its own right as actually getting the thing to work.

In 1978 Dick joined the Army, and a few years later earned a degree in Electrical Engineering. Over the next 20 years, he married and had two children. He rose to Lieutenant Colonel serving all over the world and in 1993 was awarded an MBE.

Whilst he was still serving in the Army, Dick's family persuaded him to audition for Channel 4's Scrapheap, and, possibly because he had the biggest moustache the series producers had ever seen, Dick was successful. After leaving the Army in 2001, Dick presented Crafty Tricks of War for BBC2. In this series, Dick demonstrated his practical skills by reconstructing and testing some of the most unusual inventions of war. He also played a key part in the BBC presenting team covering the build up to, and celebration of, the 60th anniversary of D-Day, and, a year later, VE-Day and VJ-Day.

As an enthusiastic inventor, Dick tested the inventions for the Sky series The Big Idea, and the UKTV series, Re-inventors, saw Dick presenting with his son James, a historian, investigating and reconstructing some great British inventions.

Two BBC series of It's Not Easy Being Green saw Dick and his family moving to Cornwall and living a low impact life, making their own renewable energy and providing their own food, and then helping others with their green projects. He wrote a book to accompany the first series.

When he is not presenting, Dick lives in Cornwall where he runs courses in all aspects of green living. He writes, hosts conferences, gives talks on British innovation, leadership and teamwork, lectures at schools and colleges, and makes keynote and after dinner speeches.

JEM STANSFIELD
Jem designs, builds and invents for a living. He has a degree in aeronautics from Bristol University and a tremendous general understanding of scientific principles. He is also a qualified welder and has the skills in his hands to build many of the ideas in his head.

Before settling to a life in science, his 'can do'/'make do' attitude led him to surf tubes and reefs on cheap hire boards, have fleeting success as a stand-up comic, teach children in a rural Czech school and 'enjoy' life as a shepherd in outback Australia. But for the past decade, it has been mainly science and engineering projects: creating special effects for movies such as Lost in Space, The Avengers and Van Helsing, producing prominent installations and interactive exhibits for worldwide museums, and working on a ludicrous range of machines and gadgets for companies that need that kind of thing.

Over the past six years, he has applied his skills to the world of televsion. In 2001, he was an on-screen ballistics expert for the television show Scrapheap Challenge and went on to become a permanent part of the engineering team for subsequent series. He used to invent kids' dream gadgets on ITV's Home On Their Own with Ulrika Jonsson, and he was the on-screen man behind the machines and experiments on BBC2's Science Shack. For Channel 4's series Zero to Hero, he was on-screen engineer.

In 2006 Jem presented two series for Channel 4. In Men in White – an irreverent Sunday evening science show – he answered cries for help from members of the public. Combining his skill, knowledge and a few important experiments, he invented the machines, which solved their problems.

Wild Thing I Love You was a groundbreaking Sunday evening nature conservation show for the channel. Jem worked with wildlife experts to examine situations where mankind exerts too much pressure on nature and where, with a little cunning design and engineerig, he was able to build something to redress the balance.


PHOTOS
Air Propelled Sandwich
VIDEOS
(02:15)