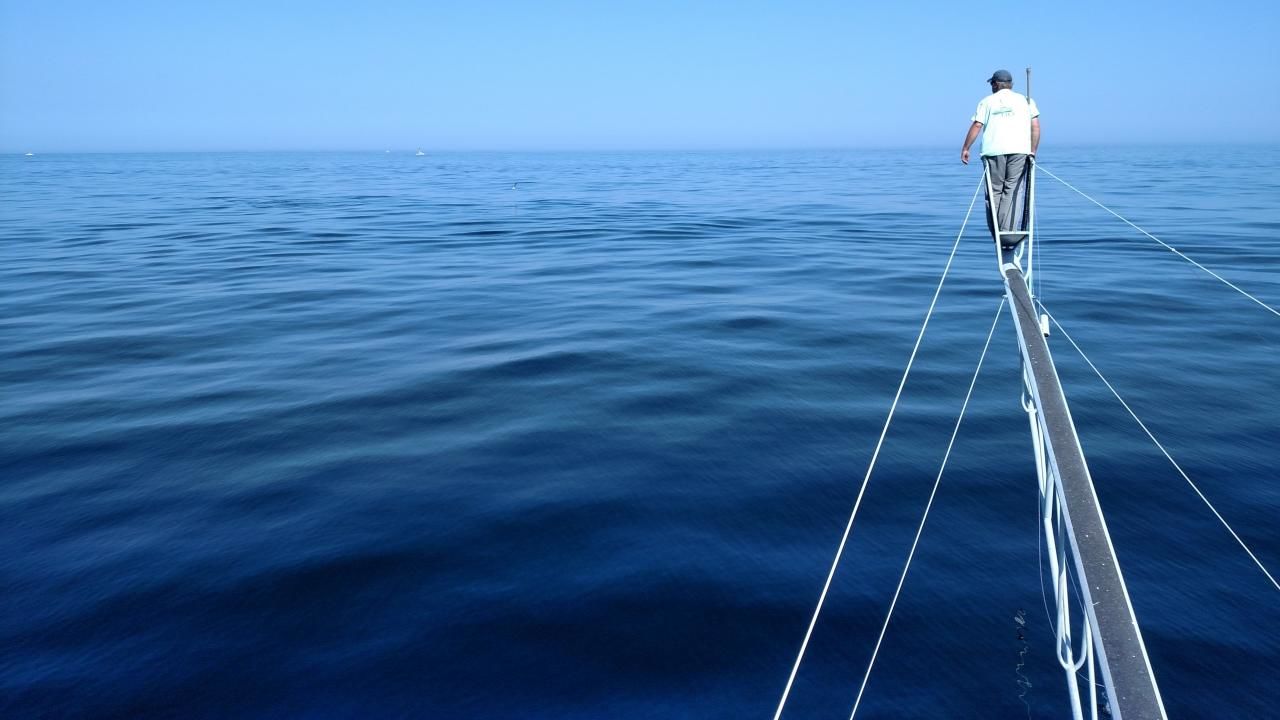 DESCRIPTION
Wicked Tuna returns with an all-new fishing season of peril and paydays on the high seas.

The fleet will have to contend with some extra competition from the north, as newcomer Captain Pete Speeches of the Erin & Sarah leaves his home port in Maine to fish in Gloucester waters. Speeches is a skilled fisherman with decades of experience, and his arrival makes the local captains nervous. Speeches fishes with his oldest daughter, Erin, a recent college graduate who is embarking on her first season of commercial fishing.

The fifth season of Wicked Tuna proves that blood is thicker than water, as the Erin & Sarah becomes the third boat in the fleet to feature a family team, alongside Dave and Joe Marciano of the Hard Merchandise and the Ott family aboard the Hot Tuna.

It'll be a fight to the finish, with plenty of fishing in-between!

Fish will be caught, catches will be weighed, earnings will be counted and, in the end, only one captain will go home a champion.

EPISODE GUIDE
Wicked Tuna: Something To Prove

It's the first day of the North Atlantic Bluefin Tuna season, and Dave wants to show finishing with the top earnings last season wasn't a fluke.

Wicked Tuna: Tuna And Tequila

Dave is desperate to land a keeper tuna after a bad first week. Hot Tuna and FV-tuna.com revisit their tumultuous past. Paul has a new boat.

Wicked Tuna: May The Fish Be With You

Dave Carraro faces a dilemma when he must choose between two of his friends - Captain Paul of Wicked Pissah, and Captain TJ Ott of Hot Tuna.

Wicked Tuna: Pissed Off On Pissah

Tensions start to boil for Captain Paul's new crew on Wicked Pissah. Captain TJ Ott takes his eight-year-old nephew on his first big tuna trip.

Wicked Tuna: Big Hauls and Downfalls

In week five teamwork is everything, but the grind of fishing catches up with many crew members, forcing some captains to rethink their strategy.

Wicked Tuna: Help Wanted

Dave is one mate down, loaning Geordie to the crewless Wicked Pissah. Lily and Kristiana battle it out for the last fish of their season.

Wicked Tuna: Snitches Get Fishes

Dave faces a dilemma when Captain Tyler breaks a fisherman's code. Paul needs to make changes or risk fishing solo for the rest of the season.

Wicked Tuna: Opposites Distract

Hard Merchandise leads the fleet with FV-Tuna trailing in its wake. Wicked Pissa's crew aim to prove they can take down FV-Tuna.com.

Wicked Tuna: Take It To The Bank

The captains decide whether or not to take the risky journey to Georges Bank. Who will test the waters and who will play it safe?

Wicked Tuna: Doubling Down

FV-Tuna.com and Hot Tuna decide to return to Georges Bank, while Hard Merchandise and Wicked Pissah stay inshore. Whose decision will pay off?

Wicked Tuna: Riders In The Storm

When a violent storm rolls in during week 11, the Gloucester captains face a tough decision at a critical time: do they fish or flee?

Wicked Tuna: Comeback Kid

Hard Merchandise takes the lead over FV-Tuna.Com, as Hot Tuna and Pinwheel battle to make a profit and Wicked Pissah makes a charge for the top.

Wicked Tuna: Tuna Invaders

With only three weeks left, the captains are forced into a turf war with the competition, and landing anything becomes a challenge.

Wicked Tuna: The Thin Bluefin Line

With a narrow margin separating the top four boats, the captains vie for vital catches that could make the difference between victory and loss.

Wicked Tuna: The Final Fishdown

Hot Tuna, Hard Merchandise, FV-Tuna.com and Wicked Pissah are all closing in on first place - victory will come down to the final catch!
PHOTOS
Take a look at these images of new boats, cast members and also of a little new mascot for Hot Tuna.
VIDEOS
Tuna.com hooks up when an absent minded dragger floats dangerously close.

(02:11)