The world-famous physicist was outspoken against racism, nationalism, and nuclear bombs, prompting deep suspicion from J. Edgar Hoover.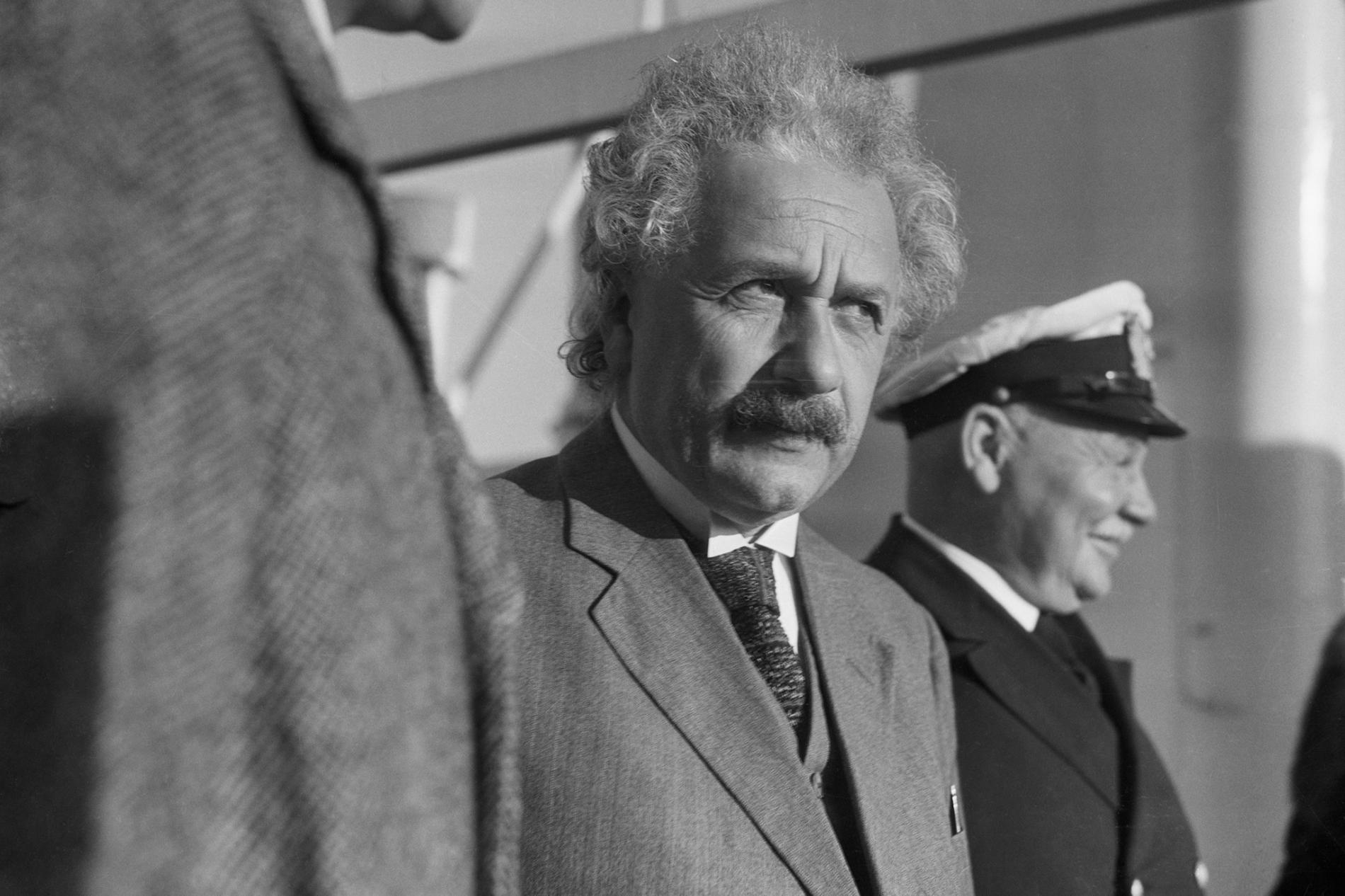 Albert Einstein, seen here in Los Angeles, used his fame as a scientist to speak out about many of the social causes of his era. PHOTOGRAPH BY BETTMANN ARCHIVE, GETTY IMAGE.

By Mitch Waldrop

Albert Einstein was already a world-famous physicist when the FBI started keeping a secret dossier on him in December 1932. He and his wife Elsa had just moved to the United States from their native Germany, and Einstein had been very vocal about the social issues of his time, arguing publicly against racism and nationalism.

By the time of Einstein's death on April 18, 1955, that FBI file would be 1,427 pages long. Agency director J. Edgar Hoover was deeply suspicious of Einstein's activism; the man was quite possibly a communist, according to Hoover, and was certainly "an extreme radical."

Einstein himself probably would have laughed out loud at those labels if he'd known about them; he'd heard far worse from the Nazis back home. And he was not at all intimidated by officialdom. "Unthinking respect for authority is the greatest enemy of truth," he declared in 1901.

The thousands of people expected to gather this weekend as part of the March for Science would likely agree.


Interrogation at the Embassy. On the cusp of Hitler's power, a political crusade by J. Edgar Hoover threatens Albert and Elsa's desperate plan to escape Germany.

Motivated by cuts to national science budgets and anti-science rhetoric from the Trump Administration, a grassroots group of scientists, teachers, and other science advocates organized a march on Washington akin to the Women's March held in January. The movement has since grown to include hundreds of partner marches in cities around the world.

The marchers say they are rallying for everything that science represents, including reason, open-mindedness, and evidence-based decision-making at every level of society.

Although they enjoy the backing of more than 170 scientific organizations, participants have mobilized in the face of heated debate among scientists themselves. As one skeptical geologist put it in the New York Times, the march "will serve only to ... turn scientists into another group caught up in the culture wars."

But, considering Einstein's rebellious life, the event's supporters will be acting in the spirit of one of the greatest scientists who ever lived.

Einstein's defiant attitude had gotten him kicked out of the German equivalent of high school at age 15, and that had led him to renounce his citizenship at age 17. He wanted nothing more to do with Germany's authoritarian schools and rampant militarism, which he loathed.

Learn about Einstein, the rebel.

Instead, Einstein attended the Zurich Polytechnic Institute in Switzerland, became a Swiss citizen, and, after he graduated, went to work at the Swiss patent office in Bern, where he did his revolutionary work on relativity and quantum theory in 1905. (Read about the 2016 discovery of gravitational waves, a phenomenon Einstein predicted a hundred years ago.)

Einstein did not return to live in Germany until April 1914, when his achievements led to a prestigious appointment at the University of Berlin. There, he continued to develop his ideas about relativity and gravity, which received spectacular confirmation in 1919 from observations of a solar eclipse and which have shaped our understanding of the universe ever since.

The rising Nazi party was soon denouncing relativity as "a Jewish perversion"—the 1920s equivalent of using "fake news" as an all-purpose put-down—and Einstein was receiving so many anonymous death threats that he tried to avoid walking alone.

But threats didn't shut him down. Instead, he repeatedly used his newfound fame to speak out against what he saw as the wrongs of the world. Silence in the face of evil, he once said, "would have made me feel guilty of complicity."

Einstein speaking during a "Science And Civilization" lecture in 1933 at the Royal Albert Hall in London.
PHOTOGRAPH BY HULTON ARCHIVE, GETTY IMAGES

He denounced militant nationalism. "The measles of mankind", he called it in 1929.

He questioned capitalism. "I regard class differences as contrary to justice and, in the last resort, based on force," he wrote in 1931. "Let every man be respected as an individual and no man idolized."

He protested racism. In 1937, when African-American singer Marian Anderson was denied a hotel room in Einstein's new home town of Princeton, New Jersey, he and Elsa invited Anderson to stay in their home—the beginning of a lifelong friendship. He also befriended the African-American singer Paul Robeson, who had been ostracized for being a communist. And in a 1946 address to the historically black Liberty University in Pennsylvania, Einstein declared segregation to be "a disease of white people."

After 1933, the rise of Hitler forced Einstein to concede that pure pacifism was no longer realistic. In August 1939, fearing that German physicists were already racing to exploit the newly discovered phenomenon of nuclear fission, Einstein signed a letter to U.S. President Franklin Roosevelt warning that "the element uranium may be turned into a new and important source of energy in the immediate future"—that is, a bomb.

Roosevelt's response was the Manhattan Project: a crash program to develop the atomic bomb before Hitler could.

Read about Albert Einsteins Theory of Infidelity.

Einstein played no further role in the project. But in the spring of 1945 he did write another letter urging the President to meet with Manhattan Project scientists who were concerned about the rush to finish the bomb and use it, even though Germany was near defeat and had clearly given up on uranium.

Roosevelt died on April 12 before he could read the letter, and when Einstein learned in August that an atomic bomb had been detonated over the Japanese city of Hiroshima, he could only whisper, "Oh my God."

For the rest of his life, he was a tireless advocate for bringing nuclear weapons under some form of international control. In the atomic age, he argued, war had become a form of insanity.

We can only guess what Einstein would have said about today's political atmosphere. But we do know his reaction to an earlier era of government crackdowns: the anti-communist hysteria of the 1950s.

"Every intellectual who is called before one of the committees ought to refuse to testify," Einstein declared in 1953, referring to the congressional investigations that were intimidating and ruining the careers of many innocent people.

That statement earned him outraged editorials in newspapers across the country, including the Washington Post and New York Times. But he wore their condemnation proudly.
After his firsthand experience with the "brute force and fear" taking hold in Europe, what impressed Einstein most about America "was the country's tolerance of free thought, free speech, and nonconformist beliefs"—the very qualities that had always animated his science, says his biographer Walter Isaacson.

Einstein was not about to stand by and watch while, in the great physicist's words, "the German calamity of years ago repeats itself."

Visit Genius to learn more about this topic.