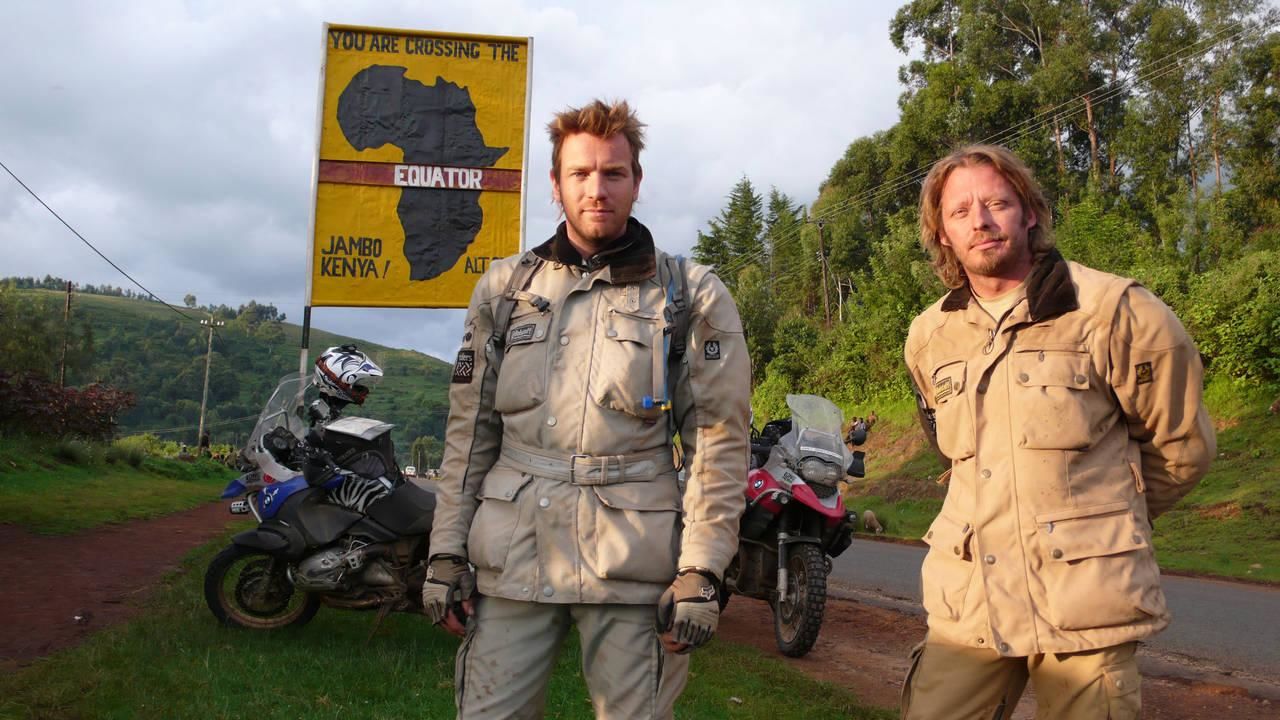 DESCRIPTION
Ewan McGregor and best mate Charley Boorman circumnavigate the globe on their motorbikes. These long time friends hit the road from the top of Scotland to the bottom tip of Africa and we've included over two hours of unseen footage. Traversing more than 24,000 kilometres of tough terrain – crossing over dangerous roads and into bandit country – Ewan and Charley set off on the adventure of a lifetime.

The boys push themselves to the limit, spending three months challenging their physical abilities and their spirits in Long Way Down. Biking through a Libyan sandstorm, traveling with armed guards in Egypt, flying over the plains of Kenya, hiking in the Ugandan mountains and riding along the South African coastline, Ewan and Charley introduce themselves to a new side of Africa.

While the landscape is rugged and beautiful, the trip is riddled with potholes – on and off road. Tensions reach breaking point midway through the trip when Ewan and Charley spar over structuring the rest of the journey. The boys must work out their tensions or else risk serious damage to the trip and, possibly, their friendship. By the time Ewan's wife, Eve, joins the team in Malawi, the boys are all smiles and ready for any difficult biking that comes their way.

Through video diaries, and helmet cameras and microphones, ride alongside Ewan and Charley, experiencing the journey through their eyes. Despite the difficult times, the entire team maintains a sense of humour and an infectious enthusiasm throughout their long adventure.
EPISODE GUIDE
Long Way Down: Gentlemen, Start Your Engines

Ewan McGregor and Charley Boorman prepare to hit the road on their motorcycles in a 24,000-km epic journey from Scotland to Africa.

Long Way Down: Scotland To Italy

After a miserable ride to London, Ewan and Charley push on to France. Despite arduous weather conditions, they must stay on a strict time course.

Long Way Down: Rome To Tobruk

In Rome, Ewan and Charley battle traffic and tensions are high on the ferry ride from Sicily to Tunisia over Charley's dangerous bike stunts.

Long Way Down: Tobruk To Khartoum

Riding through Egypt, the boys doubt whether they will make it to Aswan in time for the ferry. If they miss it, they will be delayed for a week.

Long Way Down: Sudan To Ethiopia

Charley and Ewan are starting to embrace Africa. While still finding the long riding days a strain, tiredness creeps in.

Long Way Down: Into Kenya

In Kenya, the soft sand makes it difficult to keep the bikes upright. But when the terrain finally changes, it causes more problems.

Long Way Down: Kenya To Rwanda

Ewan gets very excited when he sees wild zebras for the first time. Later, they trek to the mountains to see gorillas in their natural habitat.

Long Way Down: Kigali To Malawi

Ewan and Charley visit the home of the president of Rwanda, Paul Kagame. Later, Ewan and his wife Eve are reunited after two months apart.

Long Way Down: Malawi To Botswana

In Malawi, Ewan and Charley see first hand how UNICEF are helping children in the area. Later, Charley decides to do an 111-metre bungee jump.

Long Way Down: Botswana To Cape Town

As Ewan and Charley's exciting adventure comes to an end, the team is overjoyed when they reach their final destination, Cape Town.
VIDEOS
The team prepare for the three month, 24,000 kilometre trip. Ewan's wife Eve has asked to ride...

(02:31)