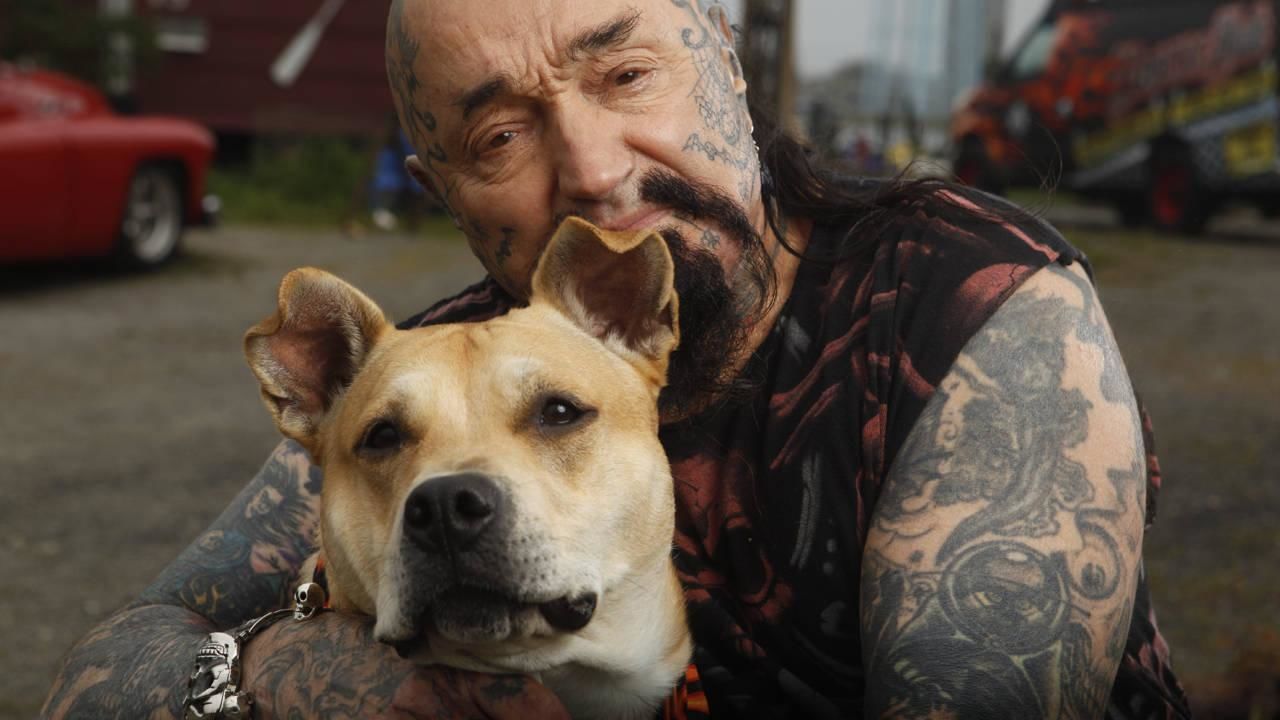 ANGEL - THE PET INVESTIGATOR
FAST FACTS:

Age: 47
Marital status: Married 23 years
Children: Three daughters
Best Pal: Cris, a 7-year-old bichon frise
Hobbies: Karate, weight lifting, raising freshwater tropical fish
Other language: Spanish
Favourite music: Salsa and merengue
Favourite movie: "Batman" and "X-Men"
Actor to Play Him: Sylvester Stallone or Al Pacino
Hero: St. Francis of Assisi

A retired New York Police Department (NYPD) detective who gave 20 years to the job, Angel Nieves is now the organization's official Pet Investigator. He joined Rescue Ink after meeting some members at a tattoo parlour in 2007, and he has been helping them save animals ever since.

As a police officer he arrested murderers and drug dealers; now he tracks down a different type of bad guy — with the same meticulous care. He is always either on the phone or on the computer, adding details to the cases he keeps in a huge file at his home office. However, some of the cases he works on have to be turned over to law enforcement, so Angel gathers as much information as he can and turns it over to his friends in blue.

His ability to read people came in handy as a cop and now with Rescue Ink. Once bitten in the face by a pit bull that needed to be gotten under control at a street fair, Angel only blamed the owner, who should have understood his dog better. The dog should not have been in such a busy place, which made it necessary for Angel to take the dog from the owner to get it under control. He grew a goatee for a while to cover the bite mark on his chin. Today, the scar is a reminder, not of bad animals, but of how easily animals can get into bad situations — and that is what he and his Rescue Ink buddies are working to prevent.

Angel grew up in the notoriously rough Harlem neighbourhood of New York City — a Puerto Rican kid in the primarily black projects — where he earned his first degrees in street smarts and self-defence. He spent a lot of time at his grandmother's house nearby, where she had chickens, roosters, rabbits, dogs and cats. He sometimes stole animals from slaughterhouses and took them to her. He also used to keep pigeons in a coop on the roof of an abandoned building. He spent summers at his family's farm in Puerto Rico, and though it was quite a change from the city streets, he continued to nurture his dedication to animals there.

Today Angel lives in New York with his wife and three daughters.
BATSO
FAST FACTS:

Age: 75
Marital status: Married 24 years
Children: Two sons and a stepson; one son died in 2007
Tattoos: Spiderweb, barbed wire, Buddha, bats
Hobbies: Cardio, weights, tai chi, Korean martial arts, soap making
Favourite Dog: Pit bull
Favourite food: Chinese and Japanese
Favourite song: "The Last Kiss" by Frank J. Wilson
Celebrity Crush: Sandra Bullock
Actor to Play Him: Robert DeNiro
Acting Roles: Biker gang member in "Oz"; bit part in "The Wrestler"
Hero: Bruce Lee

Nicholas Richard Maccharoli Sr., or "Batso," is perhaps the most recognizable of the Rescue Ink crew because of his myriad of tattoos: Buddha protected by dragons and a cobra, and bats on his head, a tiny spider on his right ear, a snake on his left ear and the barbed wire ring that circles his neck. At 75, he's a fearsome-looking man, one who holds a Connecticut state record in power lifting and is still dedicated to a workout that integrates martial arts and weights.

He developed a lifelong love and respect for animals tending livestock when he was young. At age 10, he had a job in the circus working with the trainers who cared for the lions and tigers. But not all of his childhood memories are pleasant. He admits his mother could not control him — hitting him with a broom or tying him to a tree — because he was bad. He got into trouble in school often, fighting all the time, and got thrown out after the fifth grade. He never learned to read or write properly. At 13, he was sent to a tough all-boys reform school in Connecticut, where he picked tobacco.

Soon after that, he got into cars, learning how to fix and customize them. He says he could feel how much paint or lead to apply, trusting his intuition over standard methods of training. He's still in love with cars, especially the ones he customized himself.

Now Batso applies his ability to sense things with animals. He can feel their energy and connect with their pain or their happiness. After losing one of his sons two years ago to Lou Gehrig's disease, he is committed to living his life happily, and that means helping kids who remind him of himself, and animals whenever and wherever he can, in his own unique way.
BIG ANT
FAST FACTS:

Weight: 145 kilograms
Height: 1.84 metres
Marital status: Married seven years
Children: One son, 5 years old
Tattoos: Too many to count!
Favourite dogs: Pit bulls
Favourite musical artist: Johnny Cash
Vehicle of choice: My 1950 Buick, 1966 Nova or my Harley!

A guy who looks like he could snap you in two, Anthony Rossano checks in at 1.46 metres, weighing 145 kilograms — it is easy to figure out why they call him "Big Ant"! From farms in Italy to the streets of Brooklyn and Queens, Big Ant learned early on that respect is a way of life.

Well known in the gearhead community and the biker world, Big Ant is an old-school guy who loves Harleys and hot rods. Two wheels or four, there is nothing he cannot tear down, repair and customise. He likes his rides to have power and style, and whether he is on the road in his '50 Buick, running the quarter-mile in his '66 Nova or screaming down an interstate on a custom Harley, Big Ant turns heads wherever he goes.

He is a true tough guy who can be a scary, menacing presence, but at the same he is a very funny guy with a big warm heart. Big Ant believes that animal abusers are weak, preying on defenceless creatures who cannot defend themselves, and he will not tolerate them. Once confronted and educated by Big Ant, most decide to change their ways rather than having to deal with him again.

Big Ant's love for animals can be traced back to his childhood, when he lived on his uncle's farm just outside Naples, Italy. The farm had all the animals you would expect, including chickens, cows, pigs, dogs and cats, and he loved every one of them. When his family moved to New York, his parents kept chickens and goats in the backyard of their home.

His household includes two dogs, a cat, a turtle, two rabbits and a well-populated fish tank — all of which he has rescued. Big Ant feels that having a house full of wonderful creatures provides an environment that is both stress free and nurturing.

Today, Big Ant passes on his passion for animals to his young son. Their tender interaction is part of this fall's new series, RESCUE INK.
DES - THE CAT MAN
FAST FACTS:

Marital status: Married for 10 years
Pets: None. Still mourning the loss of his cat "Kitty"
Tattoos: Four — the angel of dawn; a shark in motion, a kitty, and my favourite — my wife as a mermaid!
Favourite food: Sushi
Favourite book: "Pimp: The Story of My Life" by Iceberg Slim
Hero: Simon Bolivar and Martin Luther King, Jr.
Despised chore: Laundry
Romance tip: Don't check out other women while you're out with your lady!

If you want to know anything about cats, Des Calderon — otherwise known as "Des the Cat Man" — is the go-to guy. Rescue Ink's resident feline specialist Des has dedicated years to the study, rescue and adoption of homeless cats in Manhattan, running his organization "Uptown Cats" TNR (trap, neuter and return), shelter and feeding programs.

Born in Colombia, South America, Des lived there for most of his childhood. At age 7, he remembers being beaten up by the kid across the street back. When he ran home crying to his grandmother, she refused to let him in. He needed to go back across the street and defend the family name, she said. So he did! By age 9, Des had moved with his family to Jamaica, Queens. Things were no better in the pothole-pocked streets of New York. Des started hanging out with a gang.

He then decided he might as well make a living out of juvenile delinquency and checked out a Carl Jung book on theories of personalities to learn how people interact and formulate their perception of reality. Soft-spoken and baby-faced, Des put the book's words into practice and managed to survive the time he spent on those volatile streets. Luckily for him, his passion for motorcycling got him away from the gangs.

Des recalls his "run-in" with his first cat "Kitty" as serendipitous. The little black stray snuck into the passenger side of his cargo van while he was parked, chatting on the cell phone, and looked at him as if saying "Let's go, dude, I'm adopting you as my human pet." It was Des' birthday and his wife had for some time wanted a cat, so he decided right then to bring Kitty home. Little did he know that this innocuous moment in time would forever change his life. The "Cat Man," as he is known today, is the outgrowth of numerous cat-related experiences that started on that day. Now Des knows that the smallest things can bring the greatest change, and that black cats are bad luck only if you're a mouse.
ERIC
FAST FACTS:

Height: 1.82 metres
Weight: 105 kilograms
Marital status: Newlywed!
Pets: Five dogs
Tattoos: Lots!
Favourite dogs: Rottie
Favourite beverage: Coke in a can
Despised chore: Picking up dog poop

Eric Olsen, 33, is the newest member of Rescue Ink, and came to the team on a mission to help animals when no one else would. With a security background, he is also perhaps one of the most physically imposing: piercing blue eyes, a deep, rough voice, big muscles and a body full of ink. He thinks of himself as his own hero.

On his right arm is a tattoo of a snarling Rottweiler ― admittedly his favourite breed and perhaps inspired because his first dog was a Rottie mix named Marley he adopted as a puppy from the North Shore Animal League. After Marley, Eric next adopted three miniature pinschers, sort of like crosses between Dobermans and mosquitoes: Axel, the hyperactive self-appointed leader; Diesel, who was adopted from a nightclub bouncer; and Kash, the smallest and most laid-back of the trio. Finally, there is Chloe, a Chihuahua mix that his wife Jennifer acquired before they met.

"I have small dogs, it doesn't bother me," says Eric about his little ones. "I pick them up and show them affection … I don't care that my dog's 7 kilograms. I don't need a pit bull or a Rottweiler to walk down the street and act tough. That's not being tough. That's just like wearing a big necklace to make you look tough!"

Eric — who claims never to relax — came to Rescue Ink because of Axel. He decided that an agility competition (in which dogs navigate an obstacle course with their handlers) would be a great way to channel Axel's energy. At an outdoor class in the summer of 2008, where obsessively focused border collies scrambled over A-frames and sailed over jumps, Eric ran into someone who noticed his tattoos and mentioned a new rescue group called Rescue Ink. They would be at a fundraising event called "Hounds on the Sound" in a couple of weeks.

Eric was only half-listening: He heard "tattoos," and thought perhaps these guys were tattoo artists with a soft spot for animals. Because his tattoo guy had moved to Florida, he went to the charity event looking for a replacement artist. Instead, he met the guys, learned they were about rescues first and tattoos second, and left with an invitation to join the group at some future events. Now he is a full-fledged member of the team!
G
FAST FACTS:

Age: 40
Marital status: Married for 18 years
Children: Two, ages 9 and 15
Tattoos: Ten — including a tribal design, a cross, an angel, a panther and his children's names
His beloved dog: Boss, a 2-year-old Olde English bulldog
Favourite food: Seafood
His hero: Barack Obama
Favourite movie: "Heat"
Biggest fear: Not being able to provide for his family

George "G" Perry has led the life of a first responder to animals since he was a kid growing up in Connecticut. He was always bringing home stray dogs and cats, begging his parents to let him keep them and nurse them back to health. Now, the Rescue Ink team relies on his street smarts as they venture into some of New York City's roughest neighbourhoods. He thinks people who abuse animals are simply weak … and he will tell that straight to any thug's face.

An industrial firefighter, G is trained to work in danger zones like chemical spills, fires and also on medical calls and other high-pressured situations. And his methodical, calming approach serves him well when rescuing abused animals that feel threatened.

He also takes a lot of abuse himself — the good-natured kind — from the other guys. In this gang of Harley lovers, he rides a Suzuki Hayabusa and is proud to say that his bike can hit 320 kilometres an hour, leaving the Harleys in the dust. His passion for motorcycles actually brought him to Rescue Ink, when he met Big Ant one day at a bike shop and they started talking about bikes, tattoos and … of course animals!

G stresses to everyone the importance of being a responsible pet owner and doing the research before choosing a new pet. No one should make a spur-of-the-moment decision in a pet store: See the cute furry face in the window, fall in love and plunk down your credit card. That is how we end up with so many dogs that need rescuing. And he believes that part of being a good owner is learning to train your dog effectively. His bible of dog training is "Good Owners, Great Dogs" by Brian Kilcommons, which he used years ago to train his first Rottweiler, Shabba, and continues to lend out each time a friend gets a new dog.
JOE PANZ
FAST FACTS:

Weight: 113 kilograms
Height: 1.84 metres
Marital status: Married for eight years
Children: Two, ages 5 and 6
Tattoos: Two — one on his back for the rough times in his life, and one on his right arm — RIP Tin Man — in memory of his father (he needed a heart)
Favourite dogs: Pit bulls
Favourite musical artist: Kenny Chesney
Favourite movies: "Tequila Sunrise" and "Find Me Guilty"

Joseph Panzarella — or Joe Panz as his friends call him — is the leader of Rescue Ink. Animal rescue is a tradition in Joe's family, and despite growing up in a rough neighbourhood, he learned at an early age to care for and respect animals.

Joe begins his days at 4:30 a.m. in the gym — running, boxing and lifting weights. At 1.84 metres and 113 kilograms, he prides himself on staying in shape. But his life was not always driven by his passion for animal well-being, and he has six bullet holes to prove it.

Joe grew up in Queens, where crime and survival were sometimes intermixed. And his trouble started early. He was kicked out of first grade by the sisters at St. Helen's after an incident involving a fire extinguisher. By age 12, he was peddling illegal fireworks. He got thrown out of his all-boys Catholic high school sophomore year when he refused to rat out a friend. And by 17, his mother asked him to leave the house because she feared the company he kept would soon put one of his siblings in the crossfire. And that is just the beginning of his troubles!

Joe's body displays the wounds from his early days, prior to Rescue Ink. A scar on his hairline is courtesy of a bottle, the one over his eyebrow is from a baseball bat and the one his left thigh came from a knife, as did the one through his forearm and the one on his chest that he actually Crazy-Glued together.

But it is the six bullet holes — five entries, the sixth an exit wound from the one that pierced his chest — that made Joe who he is today. It was more than a decade ago when Joe was lured out for a nightcap by a supposed friend, and when he realized things were not what they seemed, it was too late — bullets were flying, and before he knew it he was hit five times. Two bullets lodged in Joe's thighs and two in his lower back. Before the last one entered his chest, it hit the gold cross studded with rubies that had been his grandmother's. The cross bent and embedded itself in Joe's chest; the bullet fragmented, likely saving his life.

Fearing for his life, Joe fled the scene — but knew he could not go home, or even to the hospital for fear they would not quit until he was dead. So he went to an acquaintance's house where he stuffed the hole in his chest with toilet paper, but every time he breathed, blood oozed out.

Suffice it to say, Joe survived, and turned a corner after that night. Ten years later, he has different friends, different priorities and a new lease on life.

While this experience made Joe who he is today, his new outlook on life is best summed up when you ask him who his hero is — he answers easily, his wife. Being a member of Rescue Ink allows Joe to give a voice to animals, and as their leader he makes sure this is the group's mission — no matter what the circumstances. And his past makes him fearless — and propels him into situations even animal control won't confront.
JOHNNY O
FAST FACTS:

Age: 45
Height: 1.84 metres
Marital status: Divorced
Children: Two; 19-year-old daughter and 16-year-old son
Pets: Two bearded dragon lizards and two pit bulls
Tattoos: "Sleeves" on both arms
Hobbies: Martial arts and weight training
Favourite food: Oatmeal
Favourite book: "Rebel Without a Cause" by Robert M. Lindner
Hero: His parents

A gentle giant, Johnny O (as he is known to his friends) is a fitness guru, martial artist, private bodyguard, musician…and major mush when it comes to animals. Now, he puts his muscle into defending innocent animals with the Rescue Ink crew.

Johnny O is trained in a style of martial arts fighting that can break someone's neck, stab them with his hand like the blade of a knife, or pull the eyes from their sockets. But he chooses control and discipline instead. It is this dedication and self-awareness that inspired Johnny O to develop the "FitEquilibria" concept — a discipline encompassing diet, exercise and lifestyle.

His ability to defuse emotional situations — among humans or animals — with just his body language is a skill Johnny O has honed over years as a bodyguard and bouncer. It was during this time that Johnny O also perfected his signature look — shaved head, knit hat and dark-rimmed glasses.

But Johnny O wasn't this cool guy in his early years. Despite being raised by excellent parents and in a household of animals he loved, trouble always seemed to follow him. He tried his first cigarette at age 7, started smoking habitually at 12, and tobacco was soon followed, inevitably, with stronger stuff. A few "run-ins" with the authorities occurred while he continued to party and drink heavily until his early 20s. There were a few close calls — car accidents and some mornings when he didn't remember how he got home. It took Johnny O two attempts before he was successful at becoming clean and sober, and he hasn't looked back since!

Today, Johnny O knows his love and caring for animals has made him a better person. Just ask his kids, his pit bulls or the bearded dragon lizards, and they'll all tell you it's true. Raising his children as a single dad for years, Johnny O is a man who has everything under control at home as well. He gets up at 4:30 most mornings, a habit he has kept from many years as a personal trainer, and he makes his family life a priority — always scheduling work around spending time with his kids. He is also committed to staying clean and sober.
PHOTOS
Rescued Animals
VIDEOS
Big Ant and Joe Panz are invited to go into the shark tank at Atlantic Marine World Long...

(03:06)