In the 2013 National Geographic book "True Love: Surprising Photos of Animal Affection", editor Rachel Buchholz collects stories and scenes of unexpected animal attractions—just in time for Valentine's Day. Here, preview 11 thought-provoking, heartstring-pulling pictures from the book.
A MOTHER'S BOND
Mother donkeys and their foals share a strong bond. Foals are weaned when they are about six months old or when the next foal is born.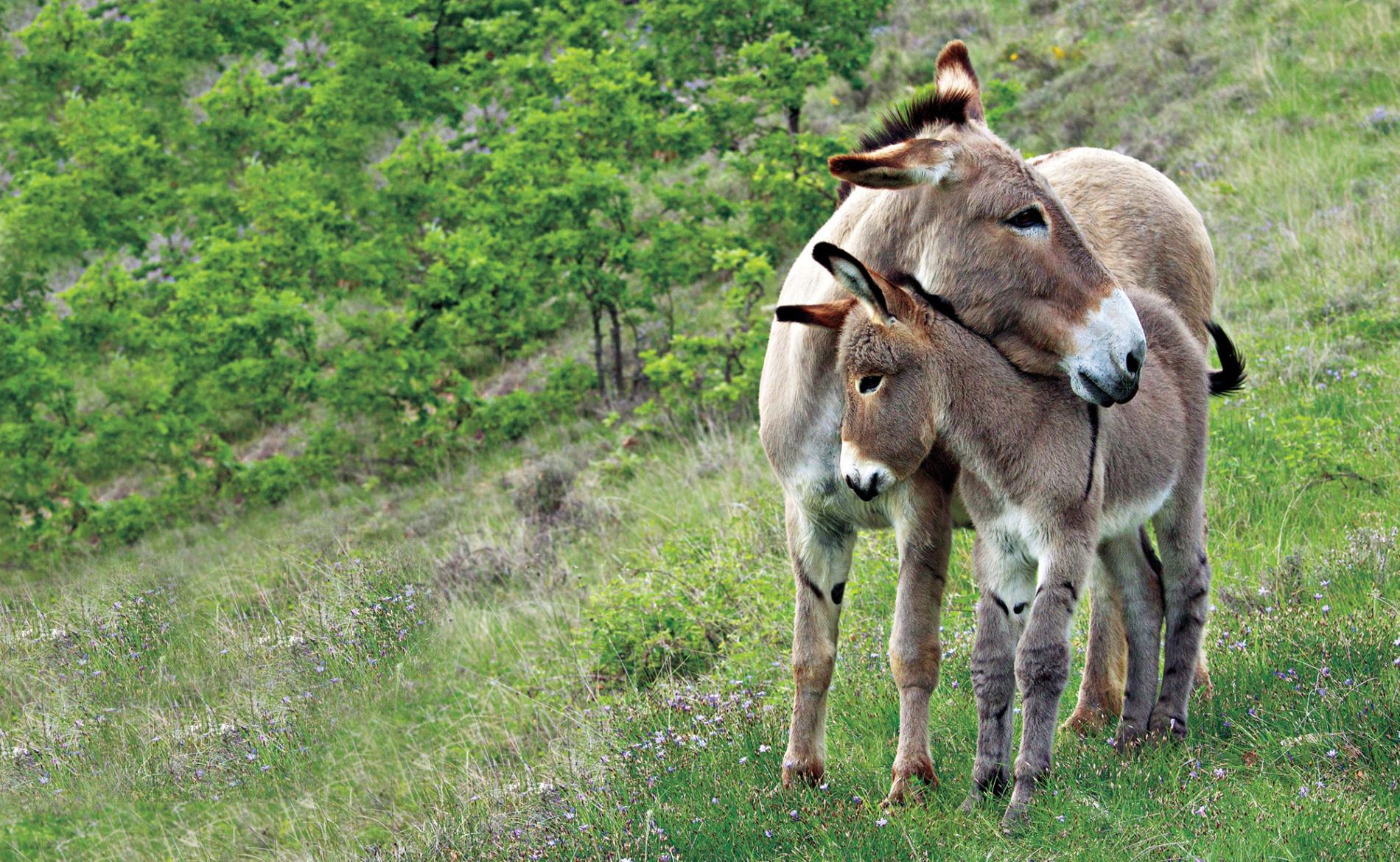 PHOTOGRAPH BY KLEIN-HUBERT/KIMBALL STOCK
PIG FRIENDS
Pigs, which have been living side by side with humans for some 9,000 years, cooperate in social groups known as sounders.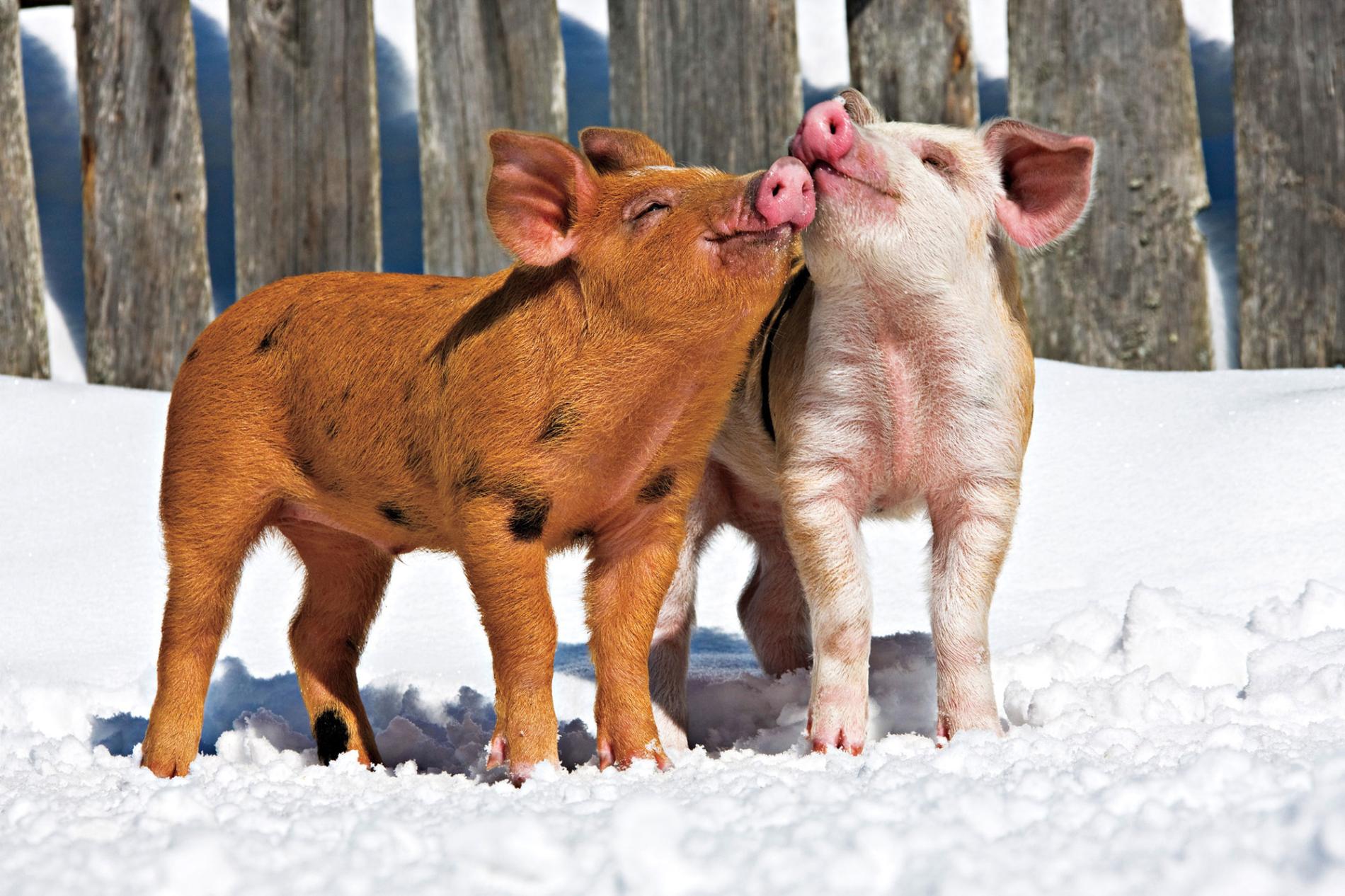 PHOTOGRAPH BY KLEIN-HUBERT/KIMBALL STOCK
OTTER LOVE
Before going hunting off the California coast, this sea otter mother secures her pup in sea kelp to keep him safe while she is away.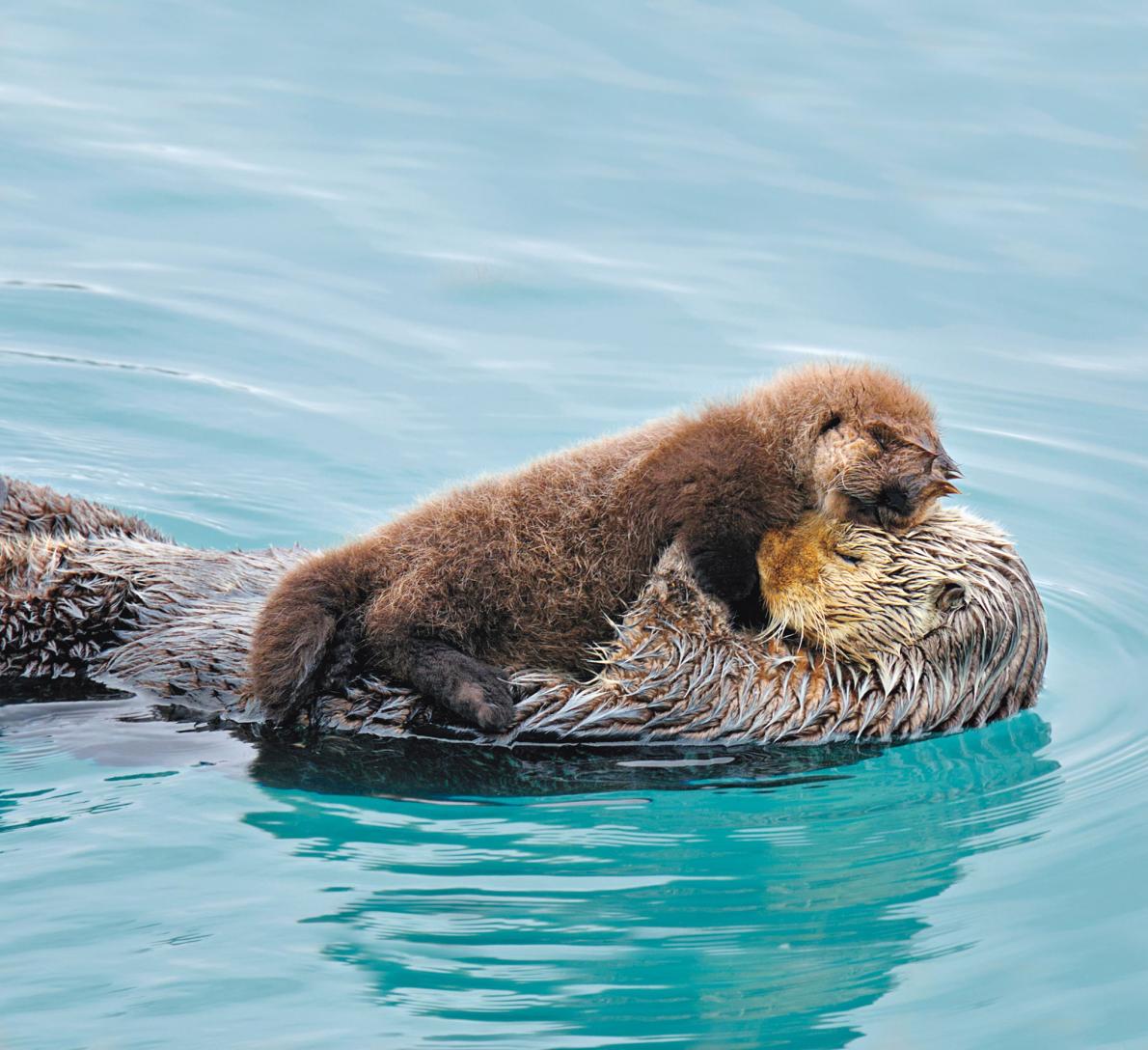 PHOTOGRAPH BY TOM AND PAT LEESON/ARDEA.COM
ARCTIC LOVE
Polar bear moms may nurse their cubs for as long as three years.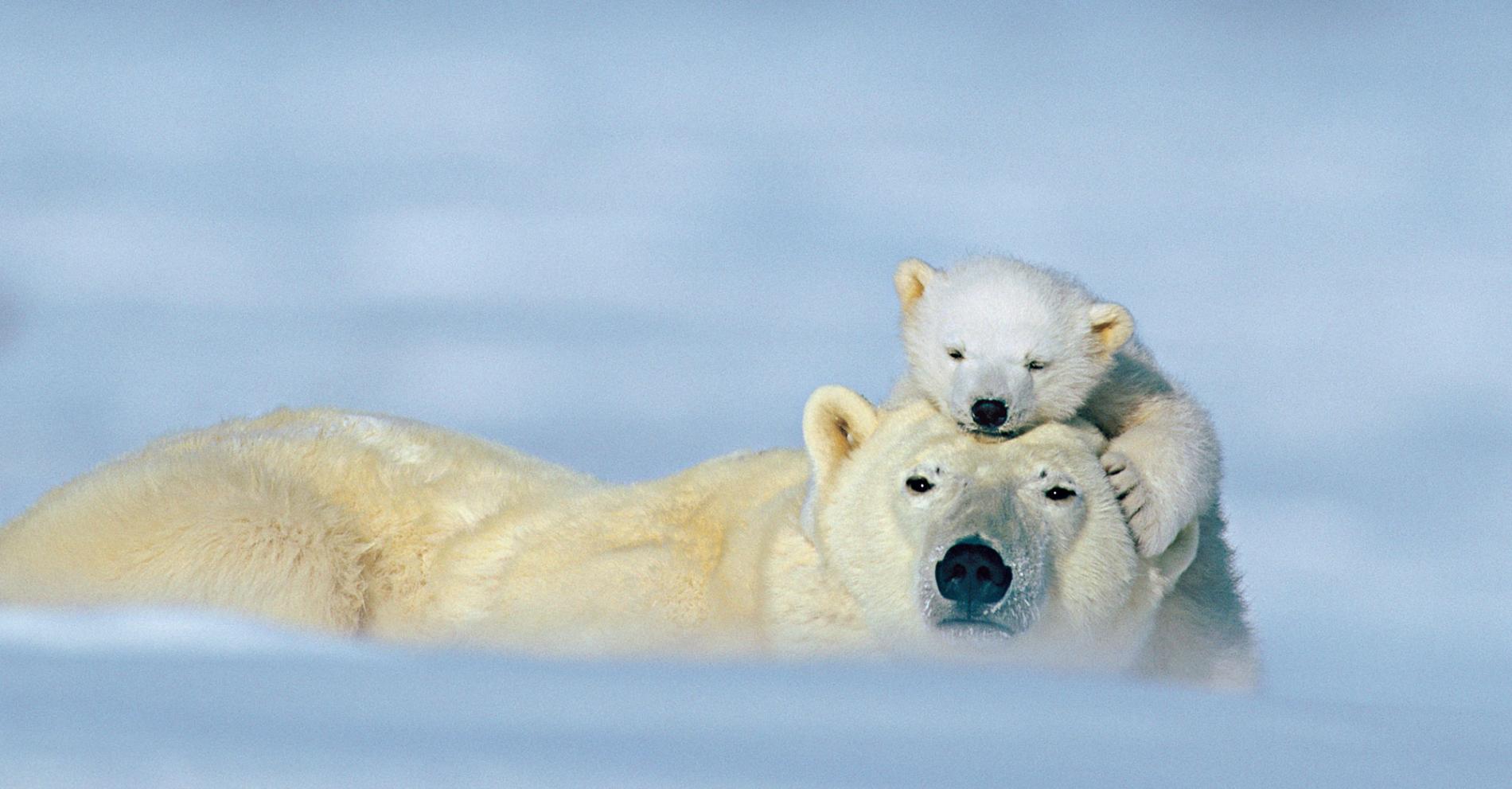 PHOTOGRAPH BY NORBERT ROSING/NATIONAL GEOGRAPHIC STOCK
WIGGLES AND HER PUPPY FAMILY
Piglet Wiggles sleeps alongside her puppy brothers and sisters. When Wiggles was born on a farm in Kansas, her owner needed to give her away, so she went to live with a litter of newborn puppies. Wiggles soon adapted to the puppies' lifestyle, and her new siblings accepted her as part of their family.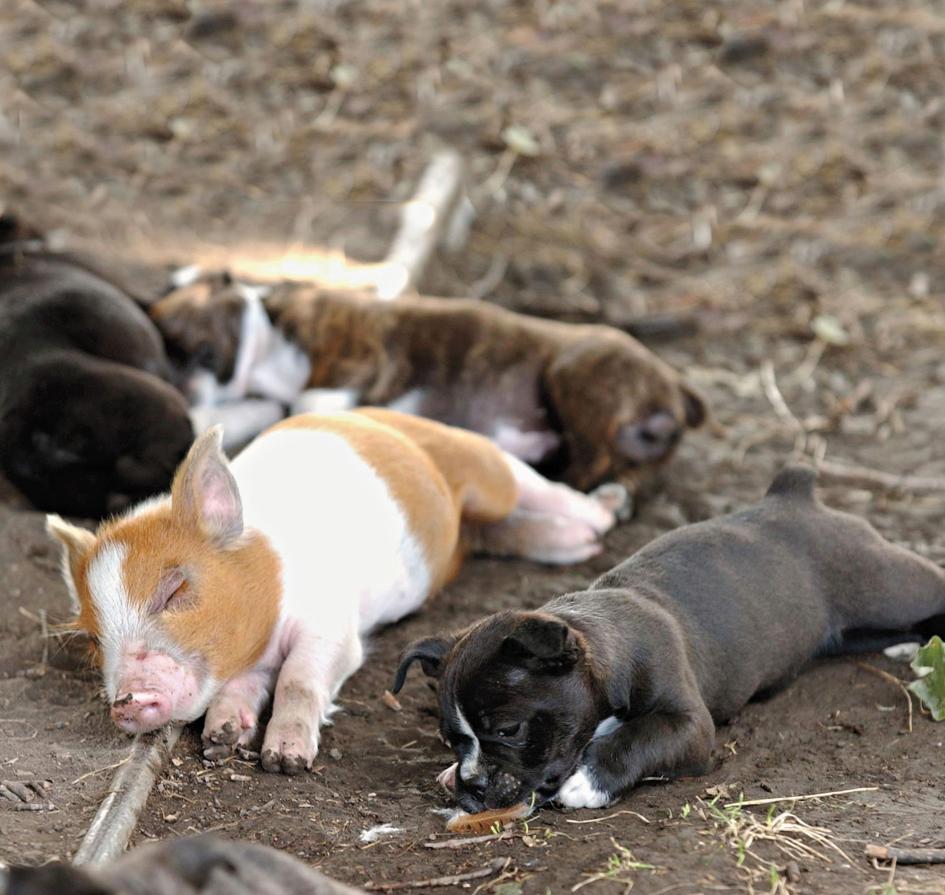 PHOTOGRAPH BY RICHARD GWIN/LAWRENCE JOURNAL WORL
SIBLING LOVE
Spending all their time together, raccoon kits never leave the den during the first two months of their lives.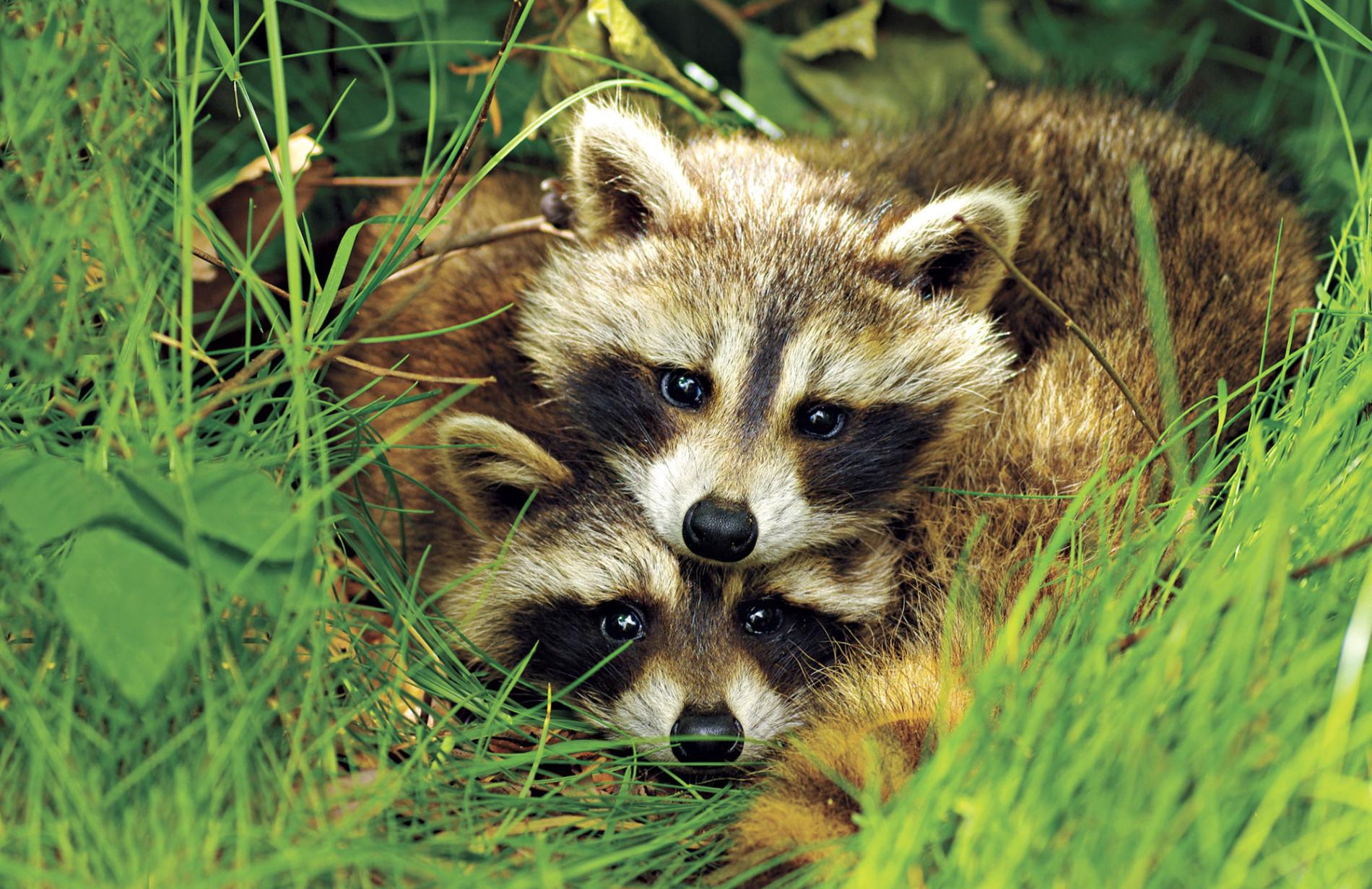 PHOTOGRAPH BY TERRI MOORE, MY SHOT
GUARDIAN GOOSE
Highland bull Hamish and his goose pal hang out. A big Highland bull like Hamish probably doesn't need a bodyguard, but a certain goose seems to disagree. Whenever the bull is in his pasture at Knapdale Eco Lodge in New Zealand, the goose watches for cattle that—in the bird's opinion—get way too close.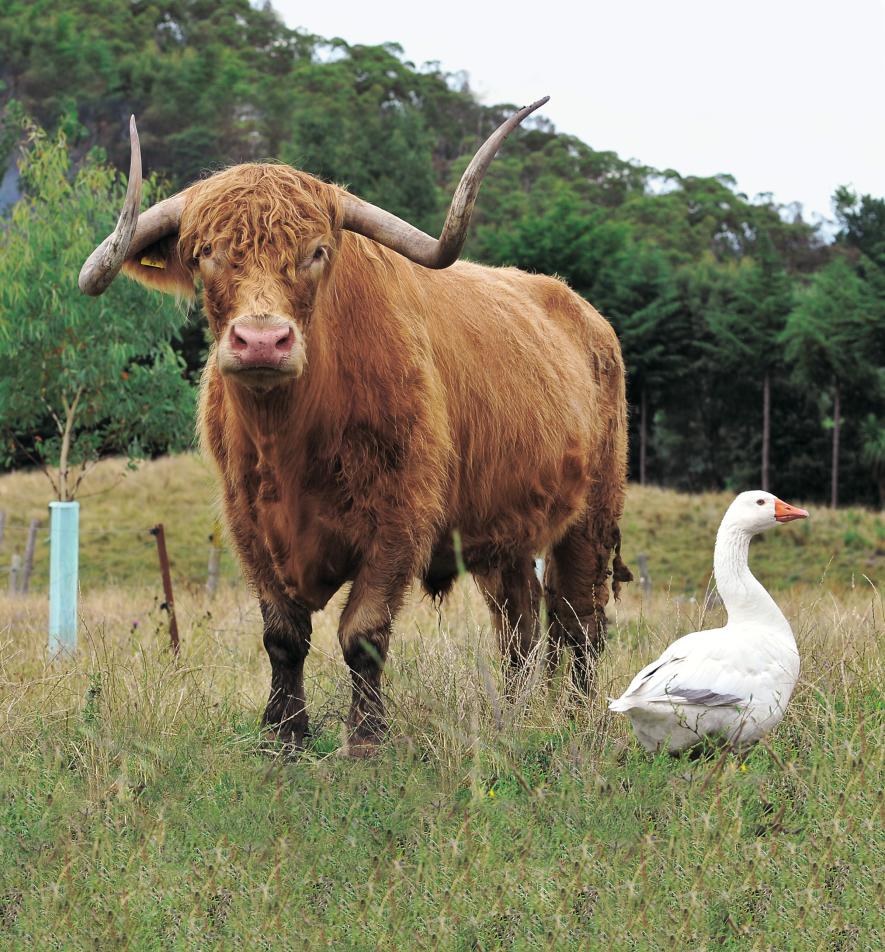 PHOTOGRAPH BY REBECCA GRUNWELL/THE GISBORNE HERALD
AUNT ROSIE
Affectionately called Aunt Rosie (pictured on the left) by keepers at Homosassa Springs Wildlife State Park in Florida, this manatee has taken more than 20 young ones under her flipper, whether they were orphans or simply in need of a babysitter.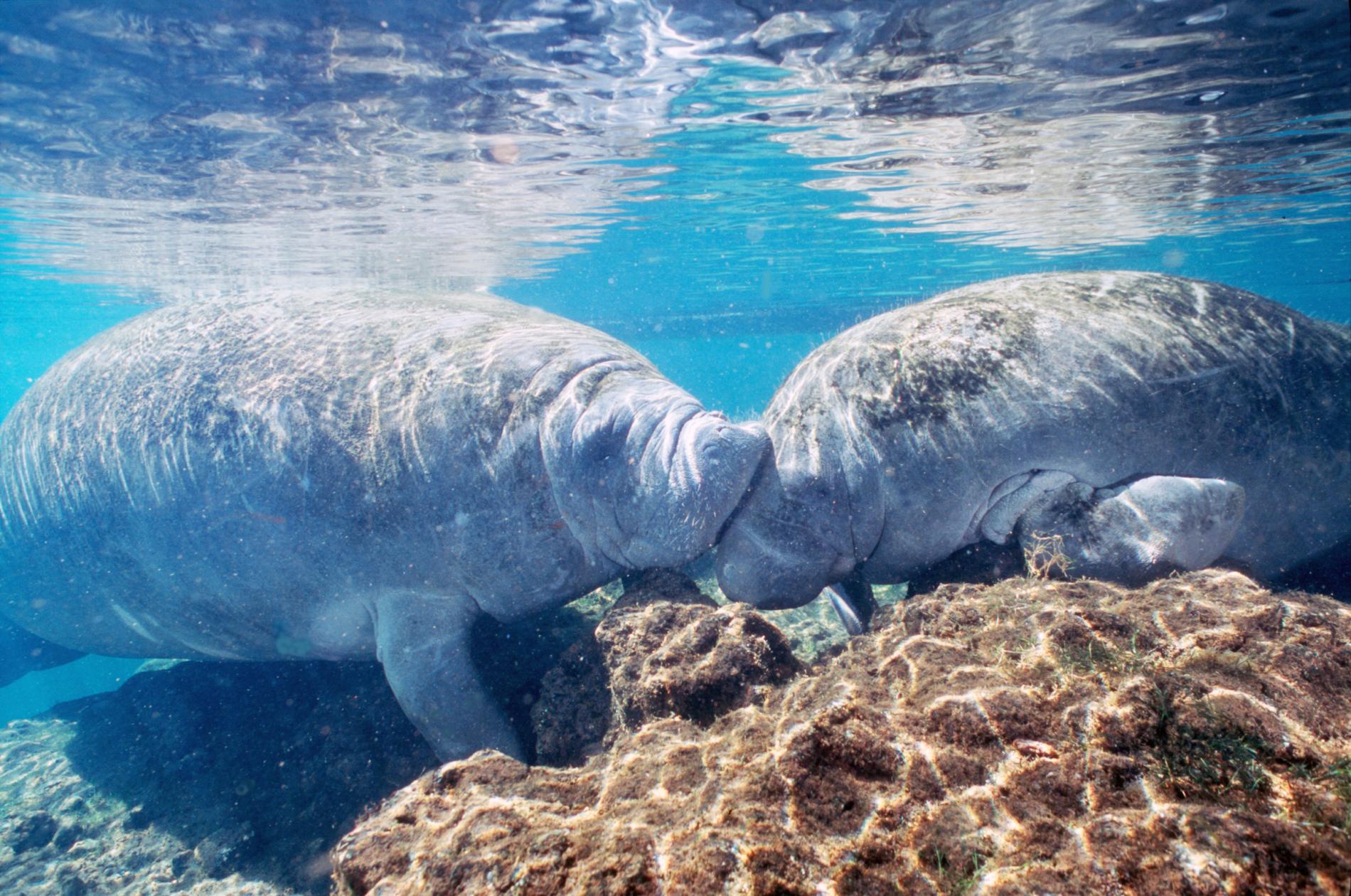 PHOTOGRAPH BY BILL GARVIN, COURTESY HOMOSASSA SPRINGS WILDLIFE STATE PARK
REAL ROMANTICS
During courtship, mature stallions and mares sniff, nuzzle, nicker, and even nip at each other.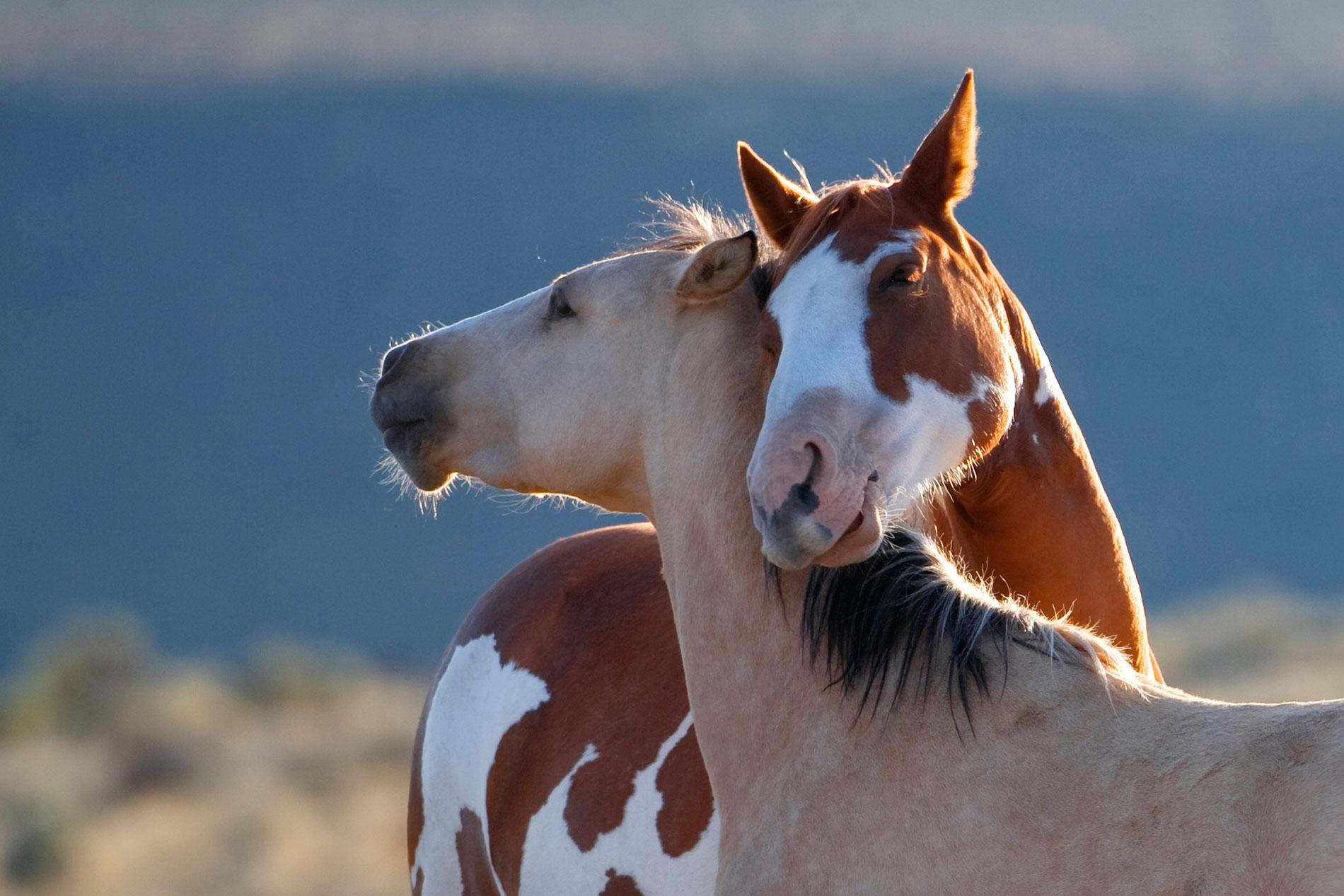 PHOTOGRAPH BY KLEIN-HUBERT/KIMBALL STOCK
TRUE LOVE
Who says long-distance relationships can't work? A stork named Romeo spends six months every year migrating to and from Africa but always returns to his mate, Julia, who lives in Switzerland.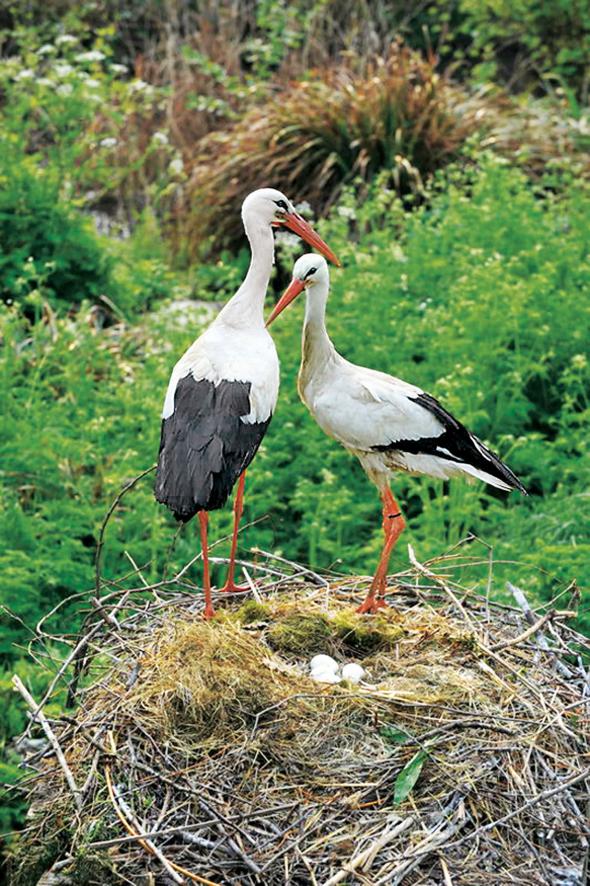 PHOTOGRAPH BY BASEL ZOO
PUPPY LOVE
Nettle, a mother dog, never worried when she needed a break from her pups. A chicken named Mabel was happy to take over as surrogate mom. Brought to live inside a farmhouse in England after a horse stepped on her foot, Mabel would fluff up her feathers, plop down on top of her brood of pups, and tuck them under her body as if they were chicks.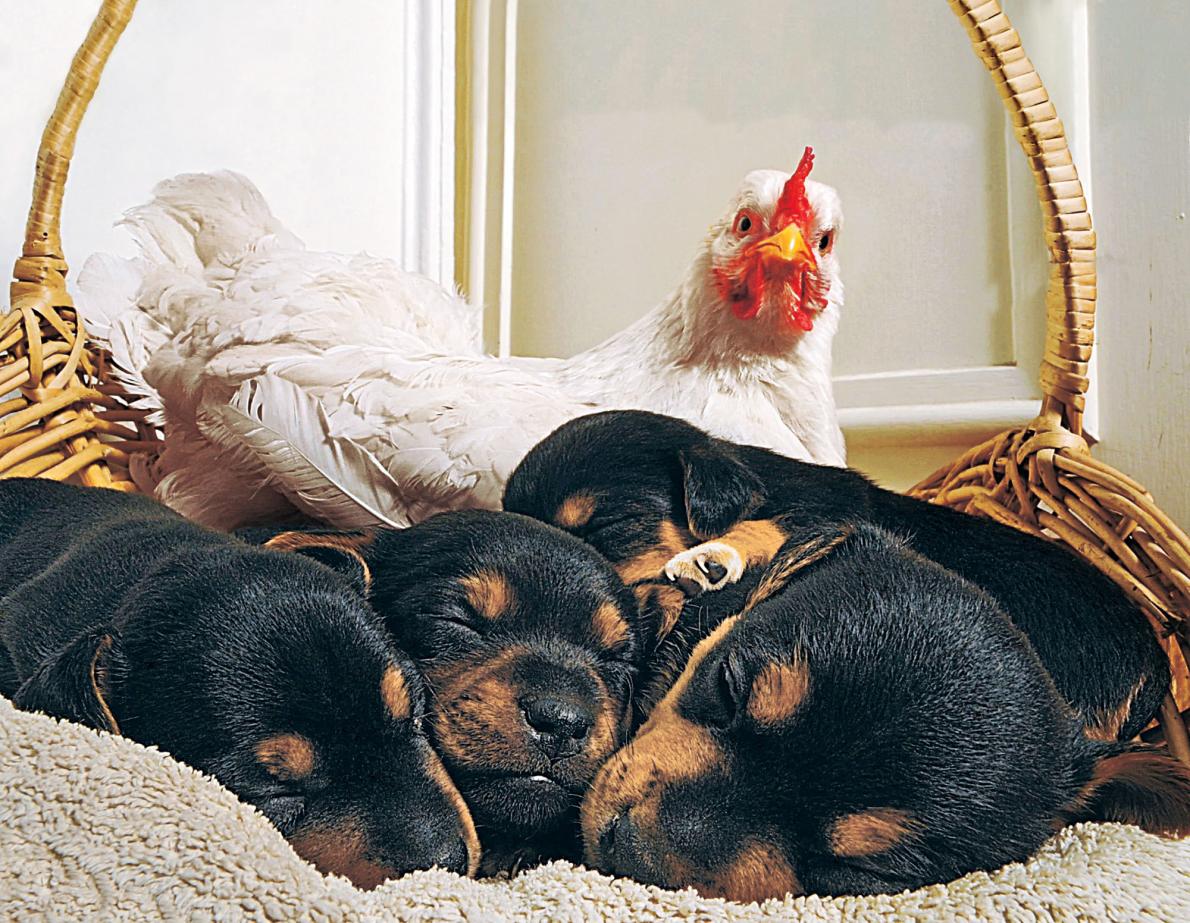 PHOTOGRAPH BY ADAM HARNETT/CARTERS NEWS AGENCY
Source: www.nationalgeographic.com