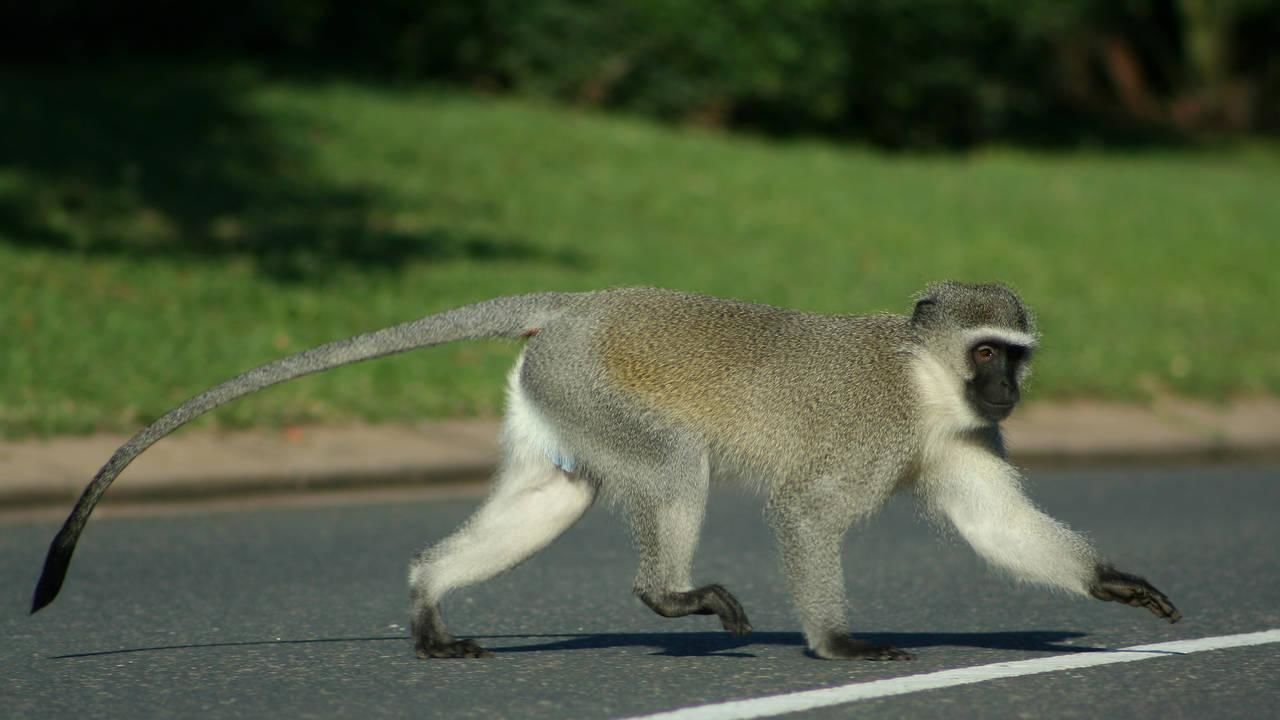 DESCRIPTION
Follow Vervet monkeys as they screech and bite their way to the top of the monkey pyramid in this real life monkey soap opera.

Among the leafy avenues of an exclusive residential estate in South Africa, a turf war between rival gangs is breaking out. Battle lines have been drawn and teeth are bared. But, it is not humans leading the charge on this offensive attack; it is their primate cousins – the wily Vervet monkeys.

This 5-part series follows the Pani troop of Vervet monkeys as they screech, bite and broadside their way to the top of the monkey pyramid in this real life monkey soap opera. What these Vervets lack in size, they make up for in resourcefulness and insatiable curiosity. Scaling rooftops and sneaking through windows, the Vervets have made Mt. Edgecombe – an exclusive residential club estate in Durban, South Africa – their personal playground. Like kids in a candy store, the Vervet monkeys of the Pani troop steal almost any food they can get their hands on, and a sugar rush has much the same effect on these little monkeys as on little humans.

But life is about to get much more difficult for the Pani troop, as invading Vervets from the outside threaten to overtake the Pani territory. The troop must band together or risk losing everything. The Pani males are more interested in showing off their assets and securing their position in the male hierarchy than in guarding the troop. Will alpha female Bess and her Pani sisterhood be able to protect the Pani stake in Mt. Edgecombe from the streetwise Sugar Cane Gang? And when a monkey in their midst starts attacking the juveniles, will the Pani females be able to fend off the attacker before it is too late?

With key insight into Vervet behaviour and a play-by-play analysis of complex Vervet gestures and movements, Street Monkeys opens a unique window into these adorable primates' everyday interactions, which can be surprisingly similar to their more advanced human counterparts.
EPISODE GUIDE
Street Monkeys: Girl Gang

Marooned in a golf estate, the vervet monkeys of the Pani troop appear to live in monkey heaven. But life is not as easy as it seems.

Street Monkeys: Boys In The Hood

Its the start of the mating season and the male vervets compete to mate with the Pani females. For male Tyson, the struggle may end in disaster.

Street Monkeys: Turf War

With the Sugar Cane Gang encroaching further into the Panis territory, the Mount Edgecombe Estate turf war reaches crisis point.

Street Monkeys: Exiles

Driven from their home, the Panis learn how hard life is beyond the estates walls. Meanwhile back on the estate, tolerance among the human residents for the Sugar Cane Gang is beginning to wear thin.

Street Monkeys: New Order

As the Panis prepare to welcome a new generation, there is a battle to keep the besieged troop together after a year of conflict and upheaval.
VIDEOS
(01:37)